Two or more people swapping bodies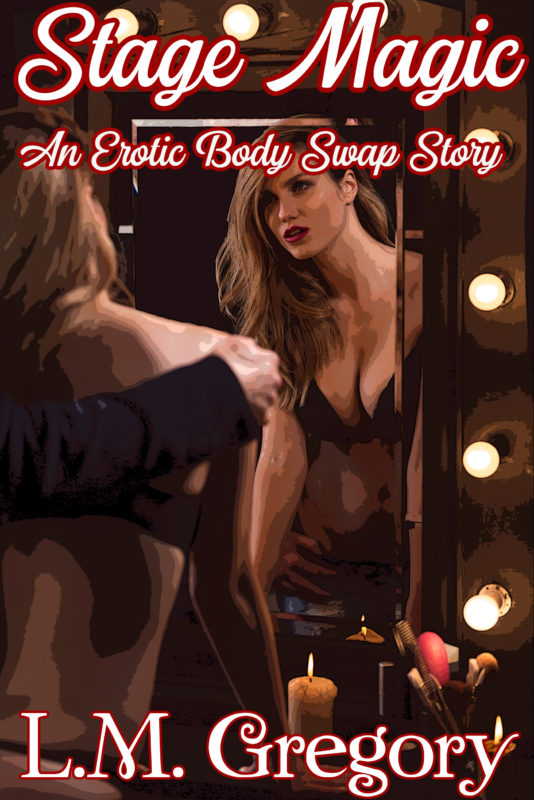 Magic isn't real and there is certainly no such thing as body swaps, or so Ken always assumed. Yet when he is chosen from the audience to save the magician's hot assistant, he finds himself not just brought to the stage, but swapping bodies with her!
While he would have gladly spent the night with the stunning Crystal, spending the night as her was not in his plans. And he certainly never planned the attraction he felt for his business partner Brandon a man 20 years older than the body Ken inhabits, but a whirlwind date might just end with Ken in the arms of the gorgeous man!
Meanwhile, his body, under Crystal's control, is free to explore everything of Ken's. His brand-new SUV. His house. His bank accounts. And his wife! The body swap just may not have been an accident and Crystal has big plans for Ken's accounts. So, there is no way she will allow a little thing like attraction get in the way of a big score. But Ken's wife is a hot older woman, and though she'd never been interested in women before, what would a little exploring hurt?
One night of magic changes four lives. Is it for the better?
Find out in this 32,000-word adventure in body swapping. Includes a M2F and F2M point-of-view. Plus, one night where new lovers discover that their lives needed just a little magic.
More info →
Best
Glitch
Ever
Virtual:
Matt wanted to be the hero. The woodsman who saved Riding Hood from the Big Bad.
The game had other ideas.
Body swapped with the female Riding Hood character, Matt discovers that glitches might be more fun than reality.
Saved by the woodsman, Matt plays the grateful damsel.
Captured by the Big Bad, he experiments with his seduction skills.
And delivering cookies was never so much fun!
Reality:
Having discovered a side of himself Matt never knew existed, he leaves virtual reality for the real world to contemplate his next adventure.
Or does he?
The body he wakes up in is most certainly not his own. Not with those breasts on his chest. And Matt lives alone. How can he the first words he hears be, "Honey, I'm home," from the lips of a man!
Is he still in virtual reality?
Is he back in reality?
Whatever the case may be, he's about to discover that virtual or reality, body swapping is the best glitch ever.
Join Matt on his body swap adventure through a virtual forest as he's chased by a bad guy, rescued by the hero, captured, and rewarded for victory. Follow along as he navigates the narrow line between virtual reality and reality in a body that he never imagined could bring so much pleasure.
In this 45,000-word body swap erotic adventure novel, you'll discover an exotic world filled with delights for the woman Matt never thought he could be. Includes MF, FF, MFM, MMF, body swap, and more as Matt jumps from erotic encounter to erotic encounter and never quite knows who he is or where he's going next.
More info →
One year ago, I was a junior at a rural university and the star linebacker on the football team. I had the skill and the athleticism to turn pro, the first from my college in decades. Sure, I had my problems, the head cheerleader blocked my love life better than the opposing teams protected their quarterbacks. Only when she wasn't the one in my bed though.
Now I'm a 30-something woman and starting to love my life as a woman, which scares the hell out of me.
Oh. I'm expecting my first child. And, well. This is sort of embarrassing, but I'm not sure who the father is. Oops.
How did this happen?
Let me tell you a story. It all started with a party. And The Coach's Wife.
Strap in for 30k words of arousing adventures in body swapping. Featuring erotic body swapping, M2F, MF, FF, and a F2M epilogue which tells the other side of the story.
More info →